From the Product Manufacturers: How a Trash Bin Inspired These "Hotels"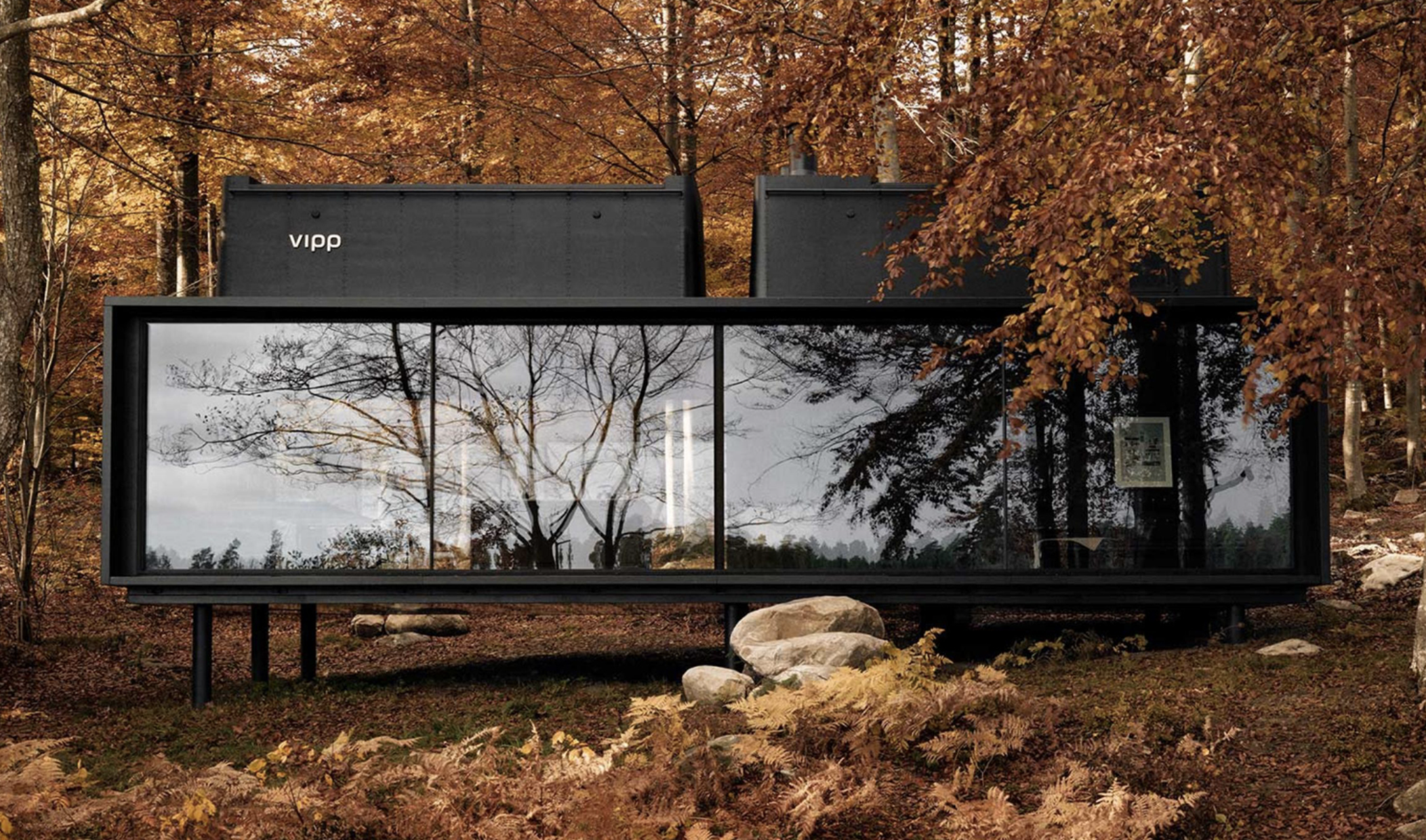 The Vipp trash bin (or really just the "bin") is something of a product design staple in Europe, and it has migrated overseas in recent years to become recognizable among designers and architects. It has even found a spot in MoMA's design collection. Created in 1939 by Danish metal worker Holger Nielsen's for his wife's beauty salon, the bin quickly populated offices, hospitals, and industrial spaces and supported a small but determined company.
So, how did this humble but sturdy bin inspire a growing portfolio of products, a modular kitchen, and ultimately a series of showrooms in the guise of a hospitality concept?
We spent an afternoon with Holger's granddaughter and company co-owner Sofie Egelund and her husband Frank Christensen Egelund also of Vipp in what will be their next "home" in Tribeca discussing how the "hotels" and their private home cum showroom are an organic underpinning to their marketing and sales efforts, reflecting the company's unique family DNA.
BW: Given your history and a very select group of products, VIPP seems like a conservative company. How did the idea of creating a cabin and two other spaces that would also be hotel experiences come about? Was that a big leap?
SE: It's funny that you call us a conservative company. I think because of the scale of our company versus the scale of our competitors, we need to do things very differently because we're not very big. So I think our "being conservative" is not using a ton of money (for marketing) and risking the company and its 80-year history.
But on the other hand, we are willing to do something which is very unusual. We came from being a trash can company; so why don't we just stick with being a trash can company and make trash cans in all kinds of sizes and for all kinds of needs: for government and for hospitals, and for airports!? But we have added a lot more products. Even a kitchen … it's not the obvious choice making a kitchen that's inspired by a trash can. So we've always had the idea to do things a little differently.
BW: How did the first "hotel" concept come about?
SE The first hotel was the Vipp Cabin (dubbed Shelter) which came about when we had done a lot of the smaller items, and then we started doing bigger items like lighting and the kitchen and bathroom modules. It made sense that we create a whole scene for what you could put inside the house; we could try to make the outside scene as well! So we made a house that looked like our product. It launched 5 or 6 years ago, and we immediately got a ton of enquiries.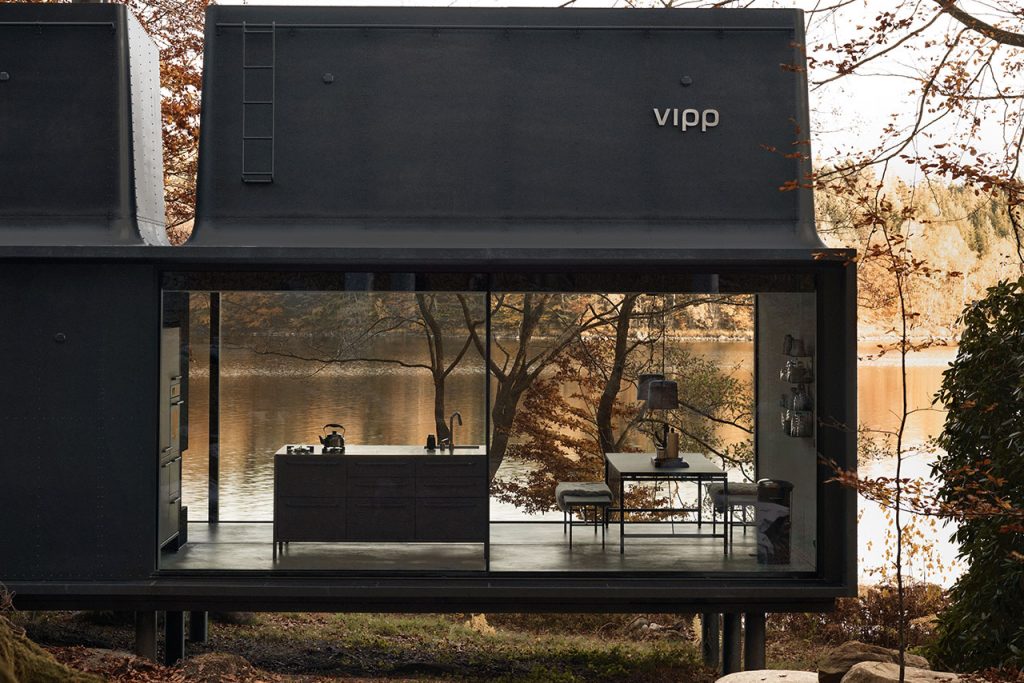 BW: So It wasn't even a hospitality space, to begin with. It was more of a showroom.
FE: And we have discussed using the same concept in the states. Just copy and paste the cabin in NYC! But we were of course super naive when we came here. We wanted to put the cabin on a rooftop, but that's not gonna happen in New York… but it would have been nice!
BW: Is the cabin a "product" for you now? That you actively sell?
SE: It could be and will be.
We moved here to New York to open a traditional street-level showroom, but we just couldn't make ends meet. It was too expensive for what we wanted to put in it and for what we wanted to be. Meanwhile, we were renovating our private home to a very high level and kept sending the bills back to Denmark saying we need a little extra here a little extra there, and they're were tearing their hair out!
BW: So your private home became the showroom?
SE: We were like, why don't we invite architects here? Here in the US, you almost always have an architect. Involved in a building project. In Europe, you don't as often have an architect involved in smaller projects like a loft. We realized, why don't we start inviting these people to come and see our product in a real setting? And the feedback was very surprisingly positive. So we're showing a kitchen that is a real kitchen, working in a real home, with real things inside.
The next step was to simply invite architects to stay there. And for them to cook! Instead of me telling them how great the product is — Maybe this is the Danish way of understating things — we rather want the architects to test it and see that it's amazing.
FE: And also, their clients could do the same.
BW: That's a very granular level to be selling and marketing. But it's been successful for you?
SE: It has. When we moved here, we were just people from Denmark, and we didn't have a rolodex of contacts. The first day when we got the internet up and running, we googled "architect Manhattan" and we got like 40,000 hits! How do I group them? Do I start with A? You need to start somewhere…
FE: I also think we quickly found out that the big firms are probably not that relevant for us in terms of selling, because price-wise we are at a high level. We learned by getting rejected a lot. In smaller architecture firms, we saw that there was a perfect aesthetic link between us. After initially inviting 10 to 15 of them and getting their responses, we had much more awareness of who our target group should be moving forward.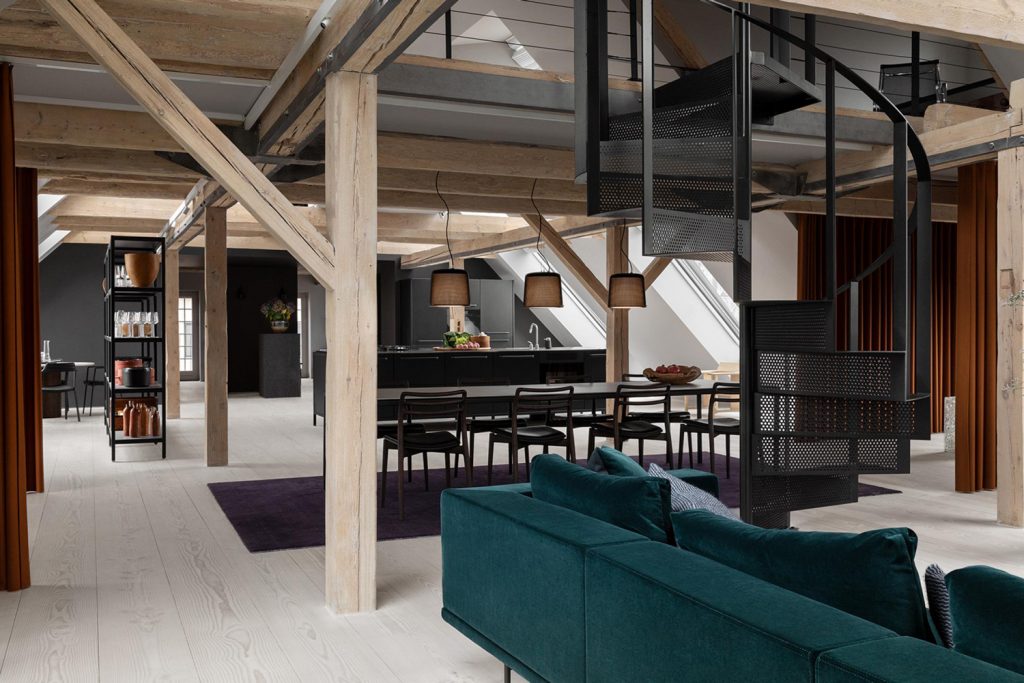 BW: In terms of the hospitality concept are the homes/hotels booked all the time? How does that get managed?
SE: We have never set out to be a hospitality group. Our goal is not to get 5-star reviews on TripAdvisor. Our concept is quite different and it is not necessarily that they are booked all the time because we also use them for photoshoots and meetings and stuff like that. But we do get quite a lot of enquiries, many more than we can actually manage to host.
All the properties right now are in Scandinavia, so when we launch something over here it's going to be very very exciting to see the feedback.
BW: Who manages the day-to-day? The bookings and the actual property?
FE: It's taken care of by one of the colleagues in Denmark in the company. It's not outsourced.
BW: A healthy portion of your product is sold for industrial spaces and professionals' offices. Is this a leap into what one would call "lifestyle". Is that appealing to you? Because Invariably you suggest a lifestyle when you create an environment like that.
FE: I think that's the goal for us. But it's also an ambition to let people more have a chance to live in a Vipp space to learn our products. So we don't have to tell them how nice our products are or how durable the kitchen is, how well made it is.
SE: If there is a "Vipp way" of doing things, it's a very strong sense of direction in terms of our product and product design — not only how the shapes are looking — but in terms of lifespan and quality. We want our products to be timeless. We have a lot of clients who still have 25-year-old Vipp trash cans.
A Vipp product has a certainty to it that people when they like it will love it, they tend to buy into it. They might start with a soap dispenser… and then they buy a kitchen… and then they might buy a cabin… because the way it's thought out is the same no matter if the size is tiny or big. The longevity of the product is the same.
BW: So it sounds to me that a lot of your business and the interest in your product is almost social… it's very manual. Not like it's some big marketing effort.
SE: It's so true about connecting people. That whole patchwork of people blends up to a little fan base or a little influence base. After googling 40,000 architects, I do think that we could now point to 1000 architects that we "know". It's not 40,000, but it's the 1000 that might share this particular aesthetic. It's a very niche product. It's more a product than a kitchen. It's more furniture than a kitchen.
BW: Speaking of influencers and that sort of thing. Do you tap into the Instagram crowd? Or are you a little above that?
SE: I wouldn't say we are above that! Because we do host a lot of influencer people. But it's not important if they have 2 million followers.
FE: We target the few but the right. Instagrammers love staying in the shelter in Sweden, but we have been super selective about which ones.
BW: Have the homes informed new products?
SE: They have informed some new products. We just launched a line of furniture that will be available during the summer. A sofa and a lot more, kind of a spin-off. Our portfolio of products has grown quite a lot, but you get to a certain point where you cannot put more metal painted powder-coated steel objects into your home. So it makes sense that we are doing something that is a little more organic, a little softer.
BW: Do you keep track of how many kitchens you've sold thanks to the "hotels"? Is that a metric you consider?
SE: Since the kitchen is not something you usually buy impulse, not necessarily. I believe that we have sold a lot of soap dispensers because of the prefab house!
FE: We see people who are considering buying Vipp kitchen — and we can't win them all — Henrybuilt has to sell some kitchens too! But then they end up buying some of our lamps or our bath modules.. So they get the full experience coming into our showroom. They buy into the lifestyle.. The design.
SE: I think one of our strongest assets is that people come into our private home. So they get exposed to who we are and to our aesthetic. If they like our aesthetic, they are willing to take our advice and some of our clients end up buying into the entire concept. And yes, we are also getting asked about our opinion on wall colors and floor finishes.
It's a very high level of personalization. We get to know our clients. We see them, we speak with them, we visit them, we revisit them, and they come visit us again.
FE: It's a different business model for sure.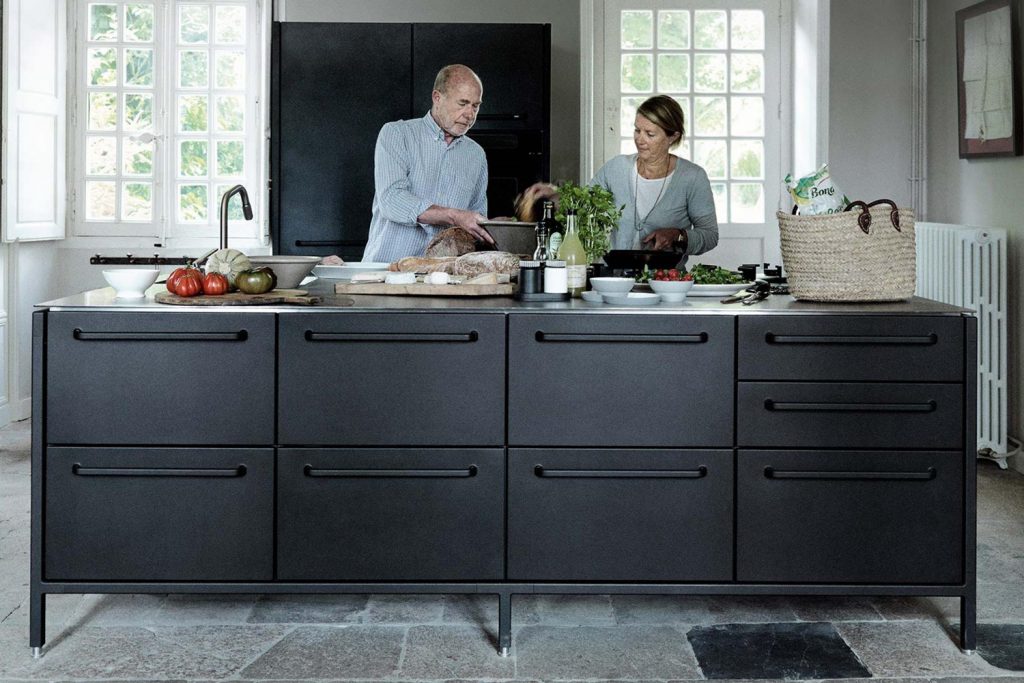 BW: Do you think in part that's because it is a family business, that you approach things in a different way?
FE: When Sofie tells the story that it was her granddad that invented the trash can, that changes something in the dialog with principals (of firms) and others. They think "Ok, she's here, she's taking care of the brand and the company."
BW. Do you consider legacy when you're developing a new product while going in a new direction? What's the company trajectory?
SE: We do get approached by a lot of people who are interested in buying into the company. We're still privately owned by the family. We don't have any plans for changing that. So that limits some of the things we can do because we don't have funding other than what we create ourselves.
I remember my grandfather being in the workshop. He worked until a few days before he passed away. I do think he's very present when we make decisions today. The whole mindset he had to make things that are long-lasting and very good quality. That's a thing that is implicit, and we won't compromise even though it's not written in any design manual. We still remember the first generation very clearly.
BW: Slightly nosy question, does everyone get along?
SE: It's not easy! I mean, I don't think any businesses run without sometimes having a little bit of fire going on. And it doesn't make it easier that we are also siblings…
FE: We have our discussions around the table for sure! They own the company equally so they can't go and fire each other. You have to find a solution.
SE: But there is also something very comfortable in knowing that it's family. It feels more secure than if it was three individual partners. You know, we need to have Christmas dinner together also in like 20 years; so that's the plan.
Frank Egelund is Vice President at Vipp USA
Sofie Egelund the Concept Director for Vipp and is a Brick & Wonder member
Book your stay at one of the hotels here!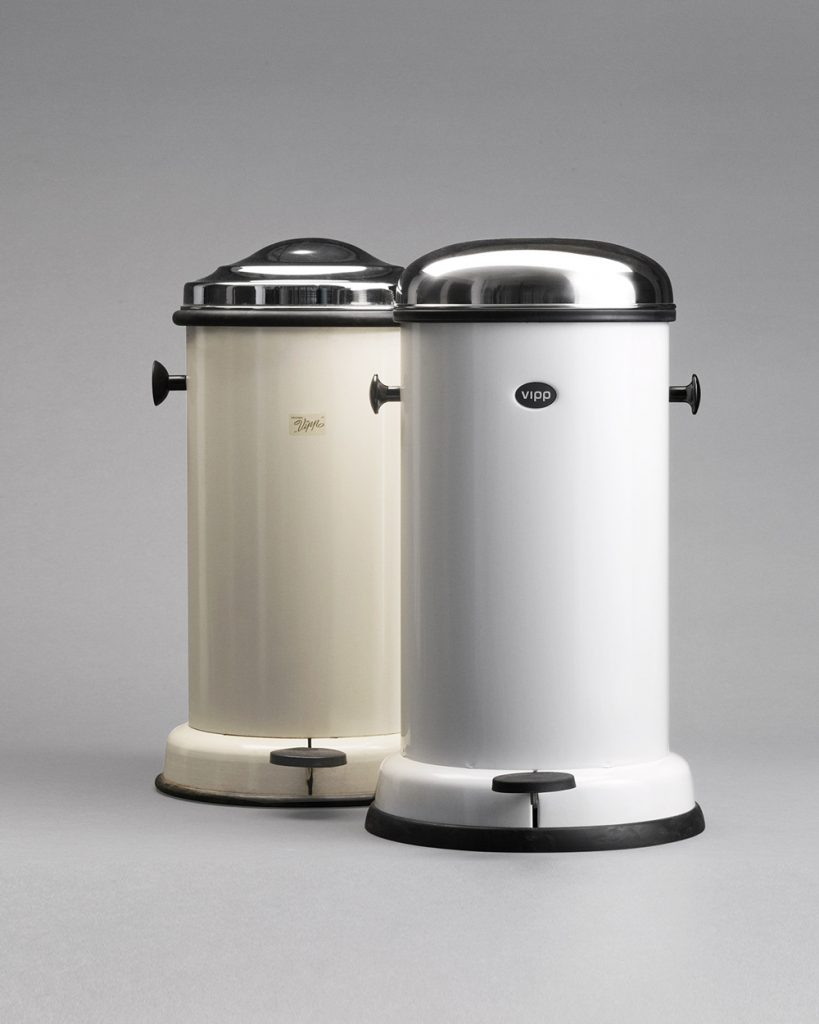 Interested in Becoming a Member?