Great Collaboration: Brisbane Public Library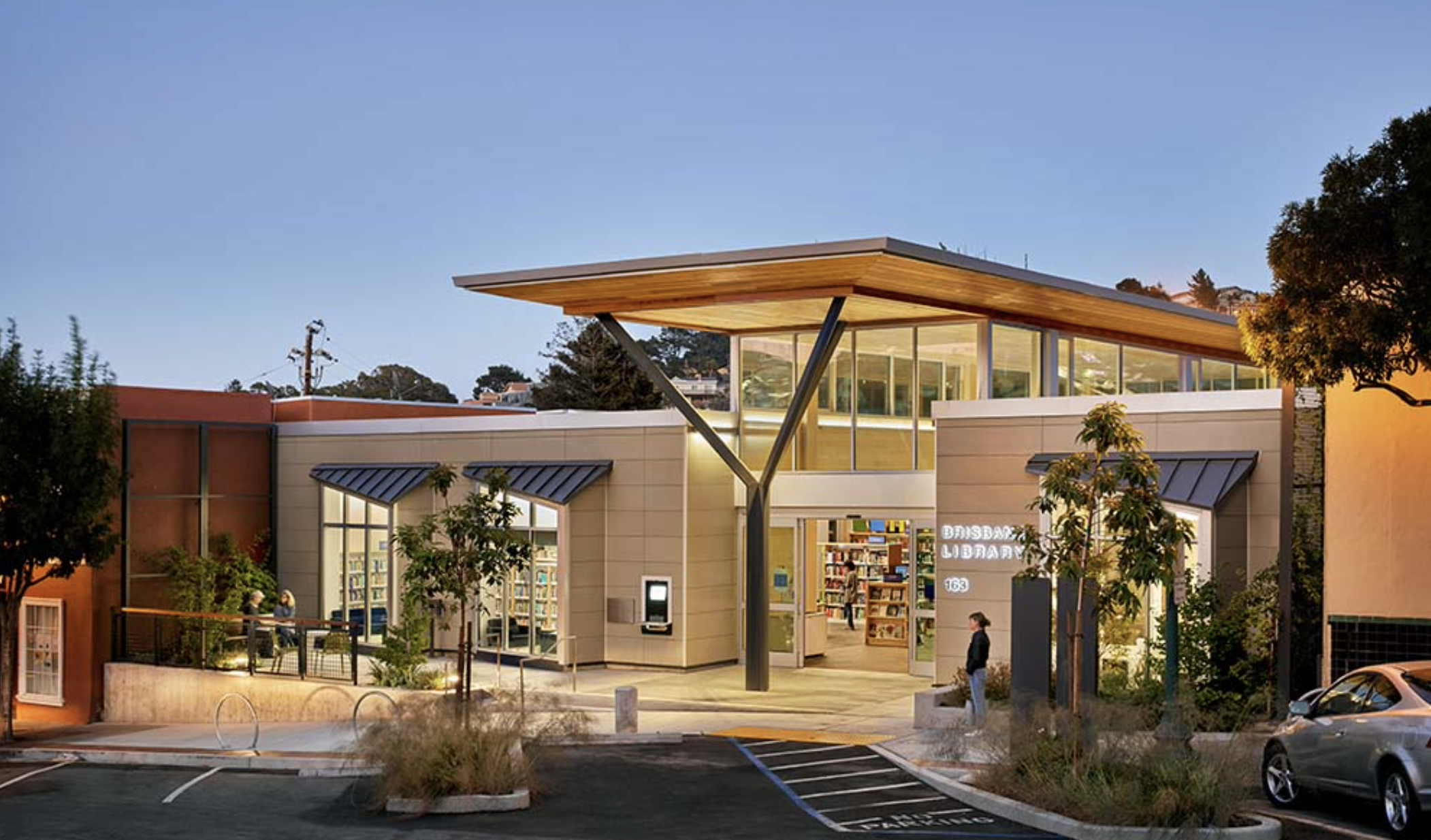 It started with a bike ride. Not the idea to work together, but the spark that won us the job and led to a beautiful new public library for the city of Brisbane, CA.
A common acquaintance suggested that we join forces: Susi Marzuola of Siegel & Strain and my firm(Karin Payson architecture + design) have similar values in life and in design philosophy, but we also possess complementary skill sets. The decision to pursue the project jointly was unusual, since neither of us is based in that city or county, so we couldn't benefit from local set-aside incentives. Instead, our alliance was based on synergy. We shared the conviction that this small community library, nestled on the side of San Bruno Mountain south of San Francisco, should be designed from both the outside in and the inside out.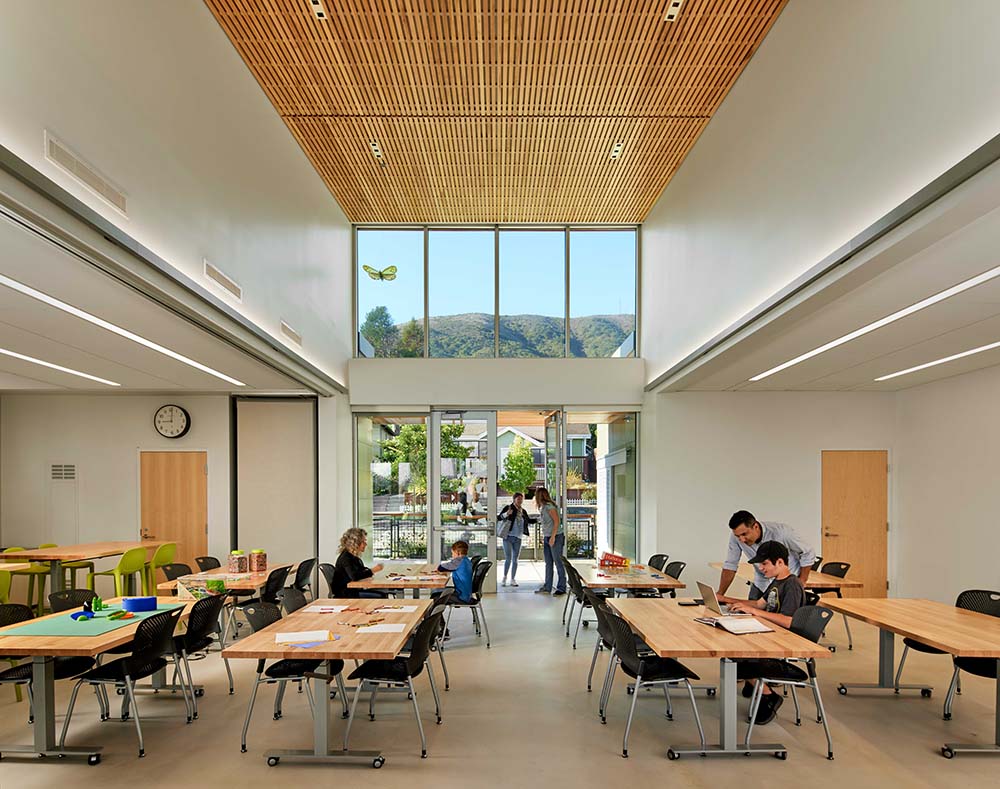 Hence the bike ride. Once we were short-listed and invited to participate in a limited design competition, Susi and I rode our bicycles from my house in San Francisco to the top of the mountain, then down into the center of town. We stopped for a coffee and a chance to chat informally with folks who happened to be out and about that day, then cycled back to the city. This outing was our first dive into the search for what gives Brisbane its identity. By the end of it, we already had an early idea for the library that held strong as we built a design and, ultimately, built a library, around Brisbane's unique character.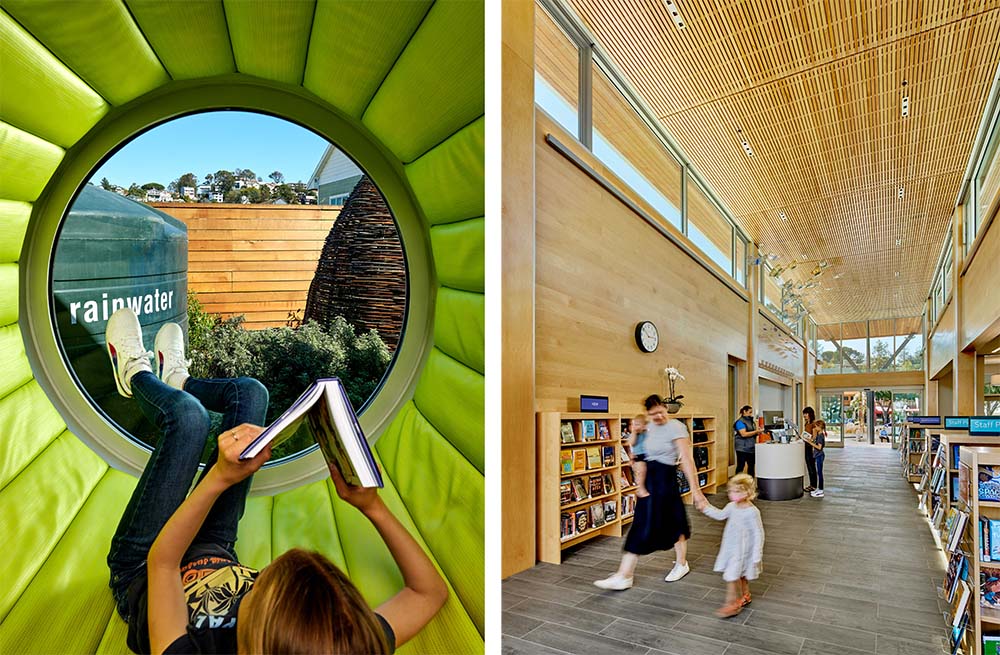 Brisbane feels like a village, both physically and socially. It is much more defined by its natural habitat—the mountain, proximity to nature and the endangered Mission Blue Butterfly–than by its adjacency to San Francisco and its international airport. Community members repeatedly told us that they want their library to be a place where they can be alone in public, to read in a living room, and enjoy the possibility of chance encounters. The library's L-shaped site, with one face to the mountain and the other to the center of town, offered a natural opportunity. We placed the community room on the side street with an independent entry and a visual focus on the mountain, while the library enters on the main street. The exterior space where these wings meet is a secure courtyard and children's garden where library programming can take place outdoors. A smaller garden in the front acts like a front stoop with seating along the street but on a slightly raised plinth as the street slopes away to the north. It's a place to watch passersby or meet up for coffee and a chat.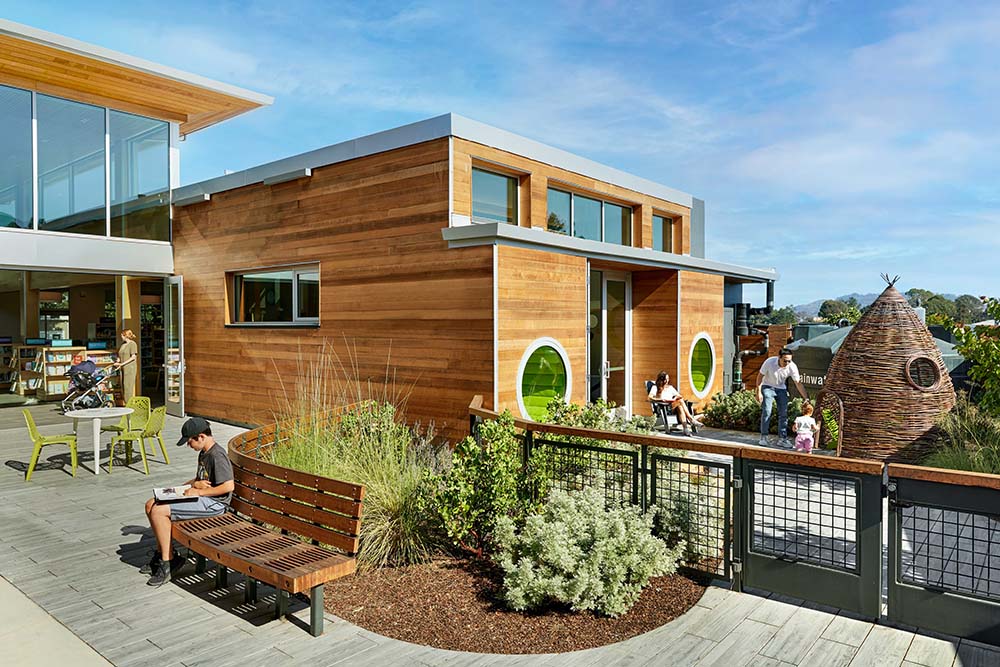 In a great collaboration you blow past the silo of your own thinking. Susi and I are architects with separate firms serving different types of clients, and an overlapping interest in public libraries. Because we formed an association to leverage each other's strengths, we each felt free to challenge the other as we analyzed the constraints, conducted community meetings and laid the basis for the design. In the early stages of design when assumptions, concepts and diagrams were being tested, it was less a division of labor than a merging of cultures. While Susi and I were always aligned on the scale and the importance of a strong indoor-outdoor relationship, we had different ideas about the role of individual residents' stories, the nooks and crannies, the mountain, the fine-grain texture of dappled light, color, and how to blend all that into a cozy community library and living room. As the building and its expression took form, it evolved to have its own integrity, above and beyond either of our individual contributions. You never know where the best idea will come from.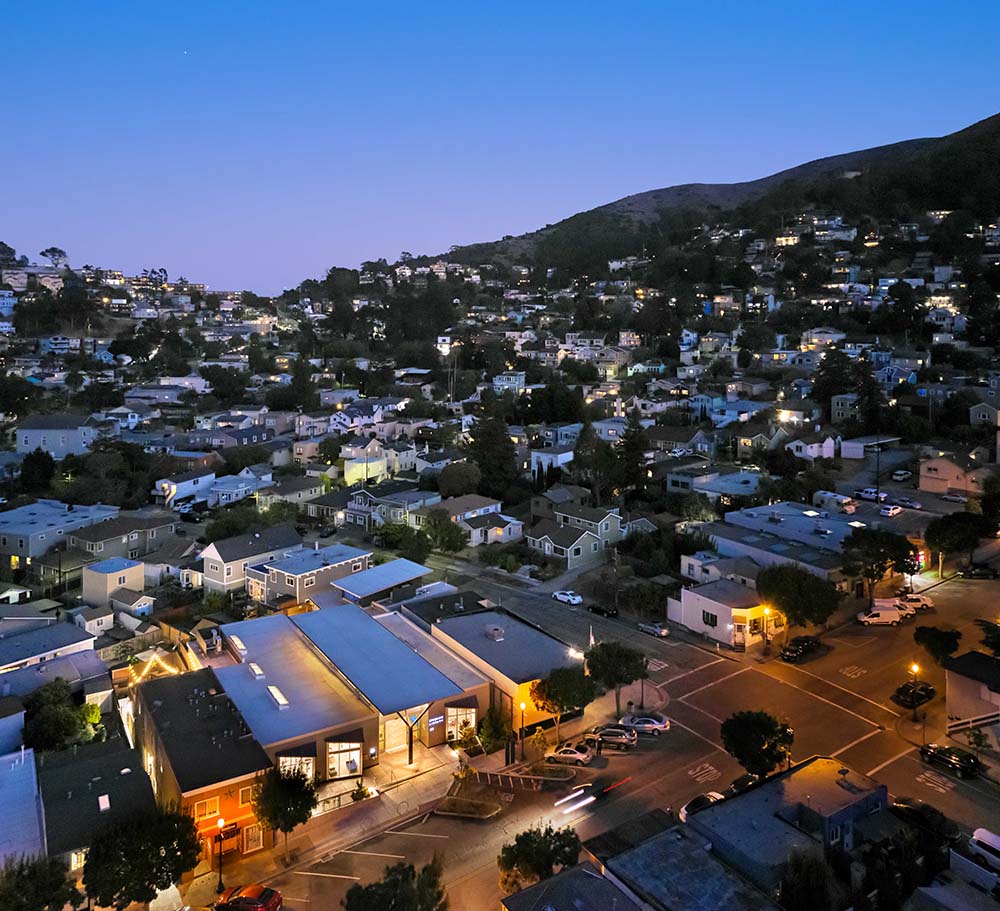 Project Credits
Library System:                 San Mateo County Library
Architect:                            Siegel + Strain | Karin Payson architecture + design
Landscape Architect:       Miller Company Landscape
Structural Engineer:        IDA Structural Engineers
Civil Engineer:                    BKF Engineers
Mechanical Engineer:     H&M Mechanical Group
Electrical Engineer & Lighting Design:      O'Mahony & Myer
General Contractor:        DL Falk
Photographer:                   César Rubio
Interested in Becoming a Member?