Brick & Wonder Profile – Bill Caleo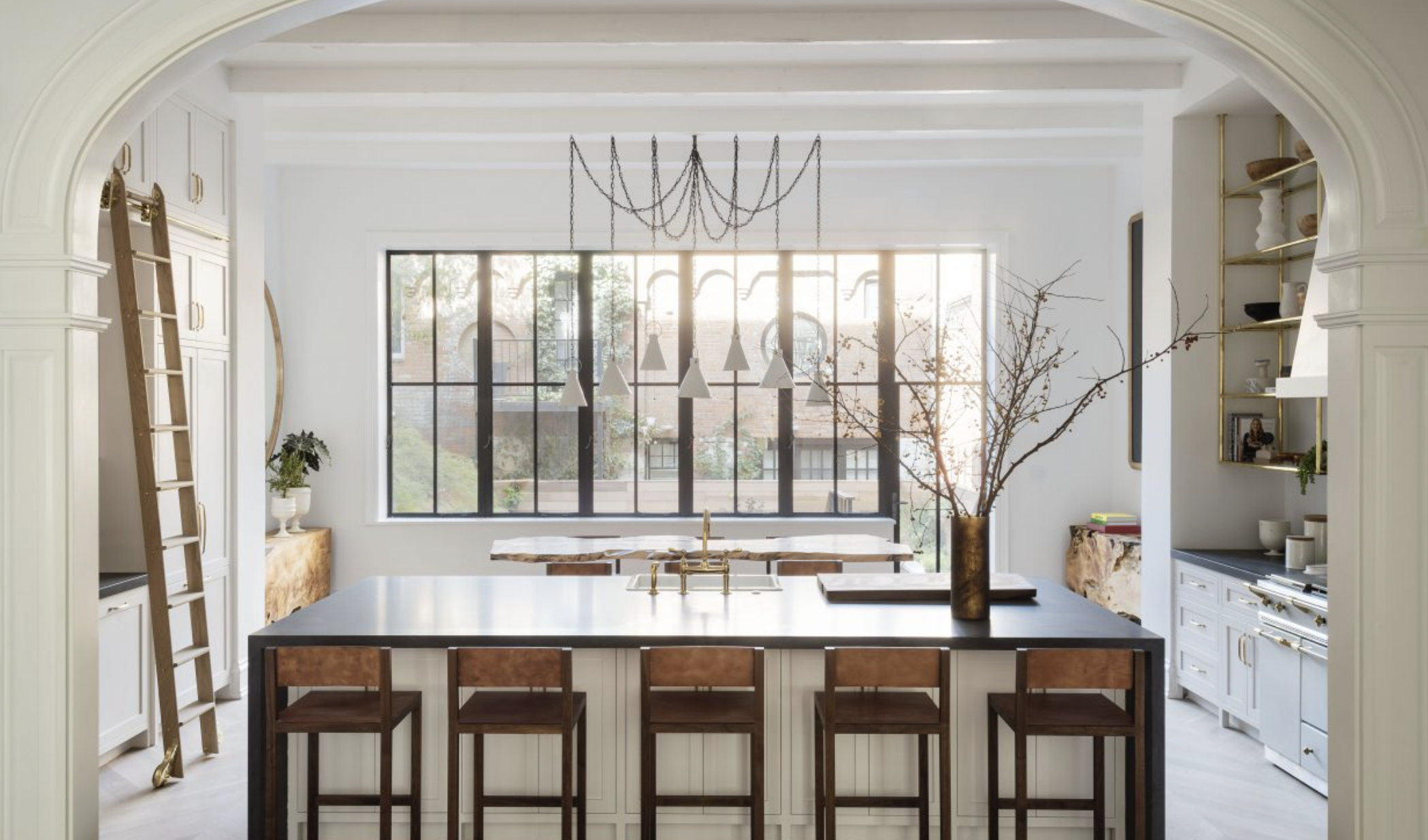 Bill Caleo originally trained as an actor, but his entrepreneurial spirit got the better of him: he swapped limelight for site-lights to pursue hands-on residential renovation and development. We caught up with Bill to hear his story.
Tell us what you do.
I'm a real estate developer with roots in Brooklyn. I started the Brooklyn Home Company, a small residential real estate development firm, 15 years ago. We've developed over 100 unique homes, mostly small scale residential projects. We often have 7-10 concurrent projects. Lately, we've expanded to larger condominium buildings. We currently have 5 projects, either finishing or in development, with 12 condos or more.
A couple of years ago we started another company called Jackson Home Company, building a dozen unique town-homes in Jackson Hole, Wyoming, which is a beautiful old cowboy town.
A third part of my business is that our family owns an old motor lodge on Lake Canandaigua, New york. My Father gave me the opportunity a few years ago to look at the asset and decide what to do with it. It wasn't serving the community, though it's a beautiful place to visit. I looked at the project front and back and, in the end, I decided to rip down the whole thing and start over. We hired Studio Tack in collaboration with our own studio. We think 85% of our customer base will be within a 3-hour drive. We'll get guests from Rochester, Buffalo, Syracuse, Eastern PA and Southern Ontario. Philadelphia is 4 hours away. NYC is about 5 hours – a long drive, or an easy JetBlue flight from JFK to Rochester and then 45 minutes by car. I really do see it as a star in the region. It has a great restaurant and chef and I honestly believe the best lakeside bar in America, and a fantastic event barn.
What first inspired you to enter the world of design & construction?
I come from a creative family. My father is an executive, but his big hobby is woodworking. My mother is a painter and worked in visual merchandising. My sister studied at RISD – she's a ceramicist, glassblower, and metalsmith. I'm an actor by trade. I did acapella and musical theater. I studied business in college, but I also did a lot of theater. I did my Masters in Acting at Southern Methodist University in Dallas, TX, right after college. With Actors, they say if you find something else you want to do as an actor, you'll end up doing it. I'd be busy 6-7 months a year but for the rest of the time, it drove me nuts! I was a bartender, a valet parker, but I didn't feel like I was building my future. I didn't see how I was going to be good enough at acting to have consistent production throughout my life.
In 2003 I was living in Park Slope and it was just starting to become the Brooklyn we know now. I wanted to buy a multifamily house for myself and my girlfriend at the time. I found a little two-family house, where one apartment needed a new kitchen and bath. I put in a bid and got it, but I didn't know how to pull a permit, hire an architect, hire a contractor, but I figured it out, went to Home Depot… I remember the first day of construction when these guys came in and started hammering at the cabinets in the kitchen. They were working, jamming, playing music. I felt "I could do this". I loved the energy of the transformation taking place, and of building a team to make it a beautiful home. I'm interested in the team, and the transformation and storytelling.
How did things grow from there?
I ran that first project myself and added a lot of value, did good work and I was very proud of it. For the second project, I did a flip in South Slope. I didn't know what I was doing. My third project was a condo project where I hired a proper architect. My sister and her boyfriend (now husband), Fitzhugh, got involved. They took over the project from a design perspective and made it much better.
There was one real eureka moment. Fitzhugh needed a bandsaw for a project he was working on at school. I said I would buy him the bandsaw if he would build us a barn door to separate the upstairs bedroom and the bathroom in the condo building. He built this huge, beautiful door. We opened the condominium for viewings the week that Lehman Brothers went out of business and the financial world collapsed. A wonderful french woman came in to see it and she loved the barn door. I told her the story. She said, "I'll take it at full price with a couple of little modifications." I said: "Deal!".
What I learned is that the story I was able to tell about Fitzhugh and his amazing work was what made it special. That one special, custom piece in the house – it became the basis of my business. Still now, for all the homes we build, we start the process by thinking about the art and furniture we want to put in there – whether it's a custom medicine cabinet or a custom butcher's block. It's all about the interior, it's our family putting our art and craft into these homes.
Sustainability and art are both important components of your practice. Can you tell us more about that?
3 years ago I went to a passive house convention which inspired me a great deal. Passive House is a European building technique using super-insulation, triple glazing, and Heat Recovery Ventilationsystems that extract stale air, replacing it with fresh, filtered air very efficiently. We try to use reclaimed timber where we can. Passive house took me to the next level. Gas ranges create a lot of indoor pollution, so we only use electric hobs. We are about to launch a few new projects – 2 beautiful townhomes in Carroll Gardens and two others – all of them are built to passive house standards.
Heating and cooling buildings are very inefficient processes, but with the right techniques, you can reduce heating and cooling costs by at least 50%. Cuomo has set a target for NYS to be powered by 50% renewables by 2030. We can also stop buildings from being a contributor to carbon emissions. I want to be a part of that. I want to be able to die and say I left the buildings I worked on better than when I started.
Tell us about your role – what is your typical involvement on a project?
I call myself the director of operations. I'm not a designer myself. I just know how to organize designers and architects and engineers in a room. They are very different animals, and I love to help bridge gaps and have everyone play well in the sandbox! We have an in-house design and architecture team. I manage that team, then we hand our drawing sets to our GCS who go execute and then report back to me on the execution. I coordinate the teams and make sure the wheels are turning. My sister is the creative director and her husband Fitzhugh is our artist-in-residence and co-creative director.
What's it like working with close family?
We have a mutual respect for each other. She is an equal investor in the business to me, and we have to provide a return for our investors. We can get through issues quickly, because we grew up bickering and fighting, but we also learned how to be productive citizens and get through it. We can go out to dinner right after we fight. We use that skill in our work. It's like having a super alignment. It's not without its flaws, but when we're humming along I think some of that has to do with the fact that we've known each for 44 years!
To what extent is collaboration and community important in your business?
There was a long period of time where collaboration for me was all about my subcontractors. They know me well, they know the expectations and we're synergized with the architecture team and our staff.
Lately, I've been trying to become more collaborative with my suppliers. When we did our hotel we made a deal with Waterworks to do a lot of the fixtures. That relationship has blossomed into their becoming our go-to brand for our condo buildings. We did the same thing with Madera hardwoods in the Navy Yard. We love their 6" pre-engineered plank, sourced in Europe, finished in New Jersey. It just makes our home look better and they do all our hardwood floors. That makes it super easy to pick hardwood floors for our projects. We're trying to do the same now with door hardware and I'd love to do it more with Millwork. I'd like to do it with simple things like high-hats which are a very simple piece of equipment – a flush mount 4" light.
We renovated a $14m townhouse at 81 Pierpoint St. It got a tremendous amount of press, partly just from the nature of this home. It's 25 feet wide, with light at three exposures and it has a beautiful carriage house right behind it. We brought in BDDW and Kindermodern to collaborate with us on doing really curated, design-focused furniture. It took the house to the next level, and the buyers bought some of the BBDW and Kindermodern furniture. I'm very happy about that. Every good opportunity has come to me when I've opened my eyes and talked through my problems with colleagues in similar or adjacent businesses.
Which parts of your process do you most enjoy and why?
I love the architectural design process, and picking of all the products we're going to put into a house. It's a magical process. I like to "fast-forward" through construction and see the finished product and see real people move in and make a life in the spaces we create. It brings me joy that we did that for them. I get the most pleasure from a townhouse customer who comes back and asks what else do you have – coming down the pipeline. That means they want to be with us and we've taken good care of them.
Interested in Becoming a Member?